The University of Chicago provides testing of the ZEB2 gene for Mowat-Wilson syndrome.  MowatWilson.org is an organization established by one family to help others with this diagnosis.  Here is an article by their founders, Dave and Deby Curry, that introduces you to their grandson and their organization: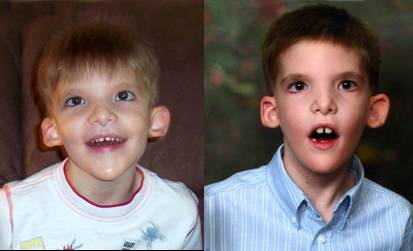 Our grandson, Chase, was born 30 days premature. He was diagnosed with Hirschsprung's disease, cryptorchidism, dysmorphic facial features, microcephaly, patent ductus arteriosus, and pulmonic stenosis and was in the NICU for 25 days.  At five days of age, he had a colostomy and, at 10 days, a PDA ligation.  One week after he came home, he had to go back in the hospital for surgical correction of pyloric stenosis.  At four months old, he had surgery to close the ostomy and reconnect his colon.  He was in the hospital for 10 days, came home for 12 hours and went back because of vomiting due to spasms.  He was in and out of the hospital for the next few months for the same problem.  He had feeding problems due to gagging, but improved slowly over the next several months.  His development was slow, and we hoped that was due to all of the time he spent in the hospital.  It seemed every time he would start to recover from one surgery, he ended up back in the hospital for another.  At 14 months, he had surgery to bring down his testicles and was circumcised.  He was just beginning to sit independently by then but that surgery set back his progress in that area.  Again, we attributed many of his delays to all the surgeries and nutrition.  From early on, his way of exploring things was by thumbing, he tapped on everything with his thumbs.  Later, he started using his wrists in place of his thumbs and more aggressively.  We couldn't believe they weren't black and blue.  His development always seemed to start and stop.  He would start to babble and then for no reason stop.  He started to crawl at 21 months and started to cruise around furniture and pull himself up at two years.  He never mimicked speech and today, at age 11, is still nonverbal.   He started using a walker at 2 ½ and took his first steps independently at 3 ½ years old.
Shortly after his 3rd birthday, Chase's pediatrician suggested taking him to Cedars Sinai Hospital in California to see a geneticist and find out what was the cause of all his delays and health problems.  We had been given several different diagnoses, but none seemed to fit.  Fortunately for us, the lead geneticist, Dr. Graham, had just been to a seminar for Mowat-Wilson syndrome (MWS) and was convinced Chase had MWS. Needless to say, we came home with more questions than answers because there was so little information about MWS.  When we got home, we contacted Dr. Mowat in Australia and sent him some pictures and background on Chase and asked for his opinion. He was also convinced Chase had MWS and helped make arrangements with Dr. Graham to have genetic testing done.  At that time, the only places that tested for MWS were in Germany and France, but we managed to make it happen.  After many months of waiting, we received the test results and they were positive.

Mowatwilson.org was established in March of 2004 after Chase was diagnosed with MWS.  MWS had only been delineated in 1998, and there was no information to be found.  At that time, the estimated occurrence of MWS was about 1 in 60,000 with only about 150 confirmed cases reported worldwide.  We searched online and asked our doctors for more information, but there was none to be found.  That prompted us to establish the website in hopes that others would find us and share their experiences.  Our first contact was from a family in the Netherlands.  They sent us a photo of their child and, to our amazement, he could have been Chase's twin.  We then made contact with an email support group from Australia, formed by the original families that participated in the initial MWS genetic study.  We have since been asked to run the support group and use the website as a portal to find families and help them connect with others in the same situation.  MWS is considered an orphan syndrome, and it is still difficult to find any useful information or resources on the web.  Our hope and goal is to help people caring for a child with MWS connect and share experiences.  We now have over 100 members and seem to be making a difference.  Please see our "Faces of MWS" slide show.